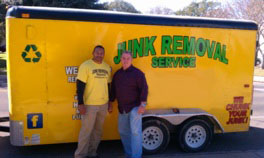 Are you conducting a major cleanup or cleanout at your home or business? Do you need help with appliance recycling or computer disposal to make room for new models? Is your property covered in lawn debris following a big storm? It's time to call in the junk hauling experts at Junk Daddy Austin. We're pleased to provide junk and trash removal for residential and commercial clients throughout the Austin area. From used television sets to broken-down washing machines to construction debris, we'll load your unwanted items into our trailer and get it off your property. You can count on us for quick turnarounds and affordable rates. Call now to learn more about what Junk Daddy Austin can do for you!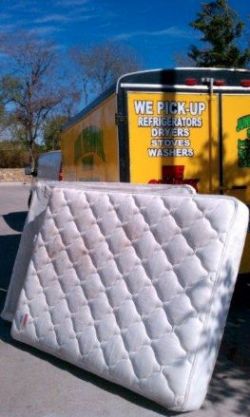 Junk Daddy Austin's services include:
Junk hauling
Garbage removal
Appliance disposal
Electronics disposal
Yard waste collection
Property cleanouts
Foreclosure cleanouts
Construction cleaning
Hot tub removal
Demolition contractor services
No job is too big or too small for our experienced junk haulers. We'll pick up a single appliance or a pile of junk and bagged garbage from your home. We'll help with commercial cleanouts, up to a 500-office space. No matter the size and scope of your junk haul job, we'll tackle it with the same care, efficiency, and commitment to your satisfaction. Junk Daddy Austin is your comprehensive choice for junk and garbage removal in Austin.
When you choose Junk Daddy Austin, you'll always get:
Quick Turnarounds for Trash Removal
Whether you need help with construction cleaning or appliance disposal, you probably don't want the job to drag on and on. After all, the sooner your space is clean, the sooner you can begin to use it. That's why Junk Daddy Austin aims for some of the fastest turnarounds for junk and garbage hauling in the local area. We'll show up on time, work efficiently to remove the unwanted items from your property, and dispose of everything properly. We even offer emergency services if you need immediate assistance.
Affordable Cleanout Rates
You'll have a hard time finding better rates for electronics disposal, yard waste collection, and other junk hauling services than those offered by Junk Daddy Austin. We strive to keep our prices reasonable, no matter how much junk you're throwing out. We price by the size of the load: $150 for a third of a trailer, $250 for a half trailer, and $400 for a full trailer. If you're not sure how much your business or house cleanout will cost, you can call us for a free cost estimate based on a description of your items. We'll quote you a great price, and we'll stick to it. 
Licensed, Bonded, and Insured Junk Haul Pros
There's more to hauling trash than just heavy lifting. You need to hire a company that cares about not damaging your property, knows what precautions to take to avoid personal injury, and is aware of how to properly dispose of, recycle, or donate different types of junk and trash. Junk Daddy Austin's licensed, bonded, and insured junk removal services team has all of these qualifications, and more. Experience the difference knowledgeable professionals make by calling Junk Daddy Austin today! We look forward to working with you.